Collections Care
EMu helps you conserve your collection with comprehensive conservation and condition check documentation, as well as integrated pest management.

Condition Checking
EMu's Condition Check facility documents an object's condition, the date when it was last checked and by whom and the date of its next scheduled check. A history of all condition statements is maintained. Amongst other things, it is possible to:
set a regular condition check frequency (in years or months);
set a specific date for the next condition check; and
receive a notification report when a scheduled condition check is due.

Conservation
Conservation work on collection objects can be scheduled and monitored, capturing examination details, a description of the damage or other reason for conservation treatment, details of the treatment performed, the results of those treatments, and any associated costs.
Conservation records make extensive use of the multimedia repository to record images and video of objects before and after conservation work, as well as audio and written documents describing treatments.
Conservation information is retained in perpetuity, giving a comprehensive history of the treatments applied to an object, and also providing a knowledge-base to improve the effectiveness of conservation activities.

Integrated Pest Management
EMu also has integrated pest management, recording information about the type and location of traps used by an institution to capture pests, and what was found in a trap at a given date and time. A rich suite of reports for analysing pest trap data is provided, including a sophisticated visualisation tool for identifying and tracking infestations within your institution: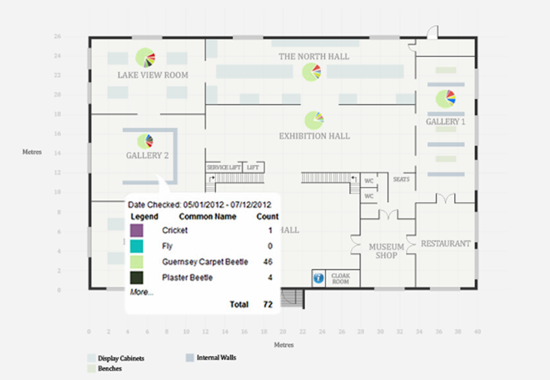 Screenshot of visualisation tool showing a museum floor plan and the incidence of pests.