Research
The heart of EMu is its Catalogue, which enables you to document the objects in your care, to organise this information, report on it and aggregate it. The design and implementation of the Catalogue is based on industry standards and world's best practice. EMu supports your research with a Catalogue designed to manage the broad range of disciplines, from art to zoology, that is characteristic of many museums. Although all disciplines use the same Catalogue, each is provided with an interface tailored to its needs. In fact, EMu is fully customisable to meet the specific and perhaps unique requirements of each museum. A key feature of EMu is the ease with which it can be tailored to the requirements of any collection.
The EMu Catalogue enables you to document:
Individual objects.
Individual parts of objects, relating them back to a parent object in a hierarchy of parts records, with each in turn able to have smaller parts, and so on.
New items derived from an existing object, such as media assets derived from physical objects (e.g. photograph of an engine) or preparations taken from organisms (e.g. skull or tissue sample). In fact, it is possible to capture all your analyses and manage all of your specimen preparations.
A single specimen lot record can document sets of specimens: several marine animals kept in a single jar for instance, or a series of insect specimens pinned within the one drawer.
With all data collected in the one Catalogue, the entire collection is searchable (depending on permissions and user privileges). And here one of the strengths of EMu for your research endeavour becomes apparent: capturing the data of multiple disciplines in the one Catalogue facilitates cross-discipline research as it's possible to search across the entire collection and draw or discover associations between disparate but related items.
The scientist user of EMu will discover a range of helpful tools to facilitate research. Chief amongst these are:
The Taxonomy module, which records detailed information about taxa. Supporting the complex rules of the synonymy of taxa, the Taxonomy module enables a search for a taxonomic concept under any of its names.
The Collection Events and Sites modules, which record information about specific collection localities (field trips and arch

ae

ological digs), supported by a Gazetteer, which provides a reference to look up place names. Geo-referencing is also supported, with mapping tools designed to visuali

s

e your data.
In short, EMu supports your research endeavour by enabling you to document what there is to know about your objects, to organise this information, report on it and aggregate it. It's on this strong foundation that EMu then facilitates your interpretation of the facts.
Learn more about EMu's:

Multi-Discipline Catal

ogue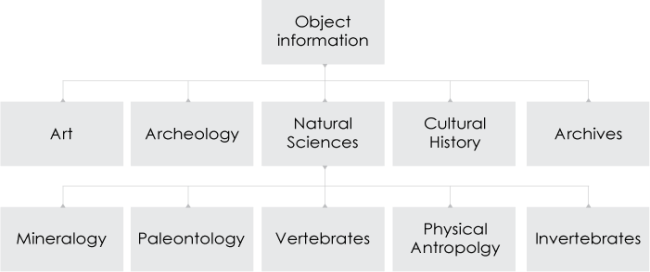 EMu supports multi-discipline collections within the one Catalogue. Examples of collection disciplines include:
The EMu Catalogue is customised to the specific needs of each museum: you determine which disciplines are relevant to your institution. Each discipline can have its own set of fields so that users working within a discipline see only the fields relevant to them (in other words, users cataloguing sculpture do not see fish fields). EMu detects the discipline of an object you are working with, whether you are inserting, editing, searching for or viewing records, and automatically adjusts the screen to display only those fields relevant to that discipline.
However, as all records are contained within the one Catalogue, EMu can be used to search across the entire collection (subject to your security profile).
As well as discipline specific fields, EMu provides a suite of general fields across all disciplines, such as object type, location, condition, and so forth, ensuring that the same management processes can be applied within each discipline. EMu can even support museum processes that cross discipline boundaries, for example multi-discipline loans.
EMu's sophisticated record cross-referencing can be used to document the relationships between objects. While frequently used for parent-child relationships (e.g. composite object and its parts), it can also be used for ad-hoc relationships between objects. For example, a photograph which includes a collection object can be related directly to that collection object and vice versa. The nature of the relationship can also be documented (e.g. host-parasite). Relationships can be established between objects within the same or different disciplines. Users can easily browse from an object to its related objects and vice versa.

Archives Support
EMu provides support for archival collections compliant with EAD (Encoded Archival Description) and ISAD(G) (General International Standard Archival Description). The full hierarchy of archival levels from repository to documents is supported, managed and displayed as a tree view with distinct icons used to differentiate between the various levels (fonds, series, etc.). Reorganising the archival hierarchy is managed simply and dynamically within this tree view: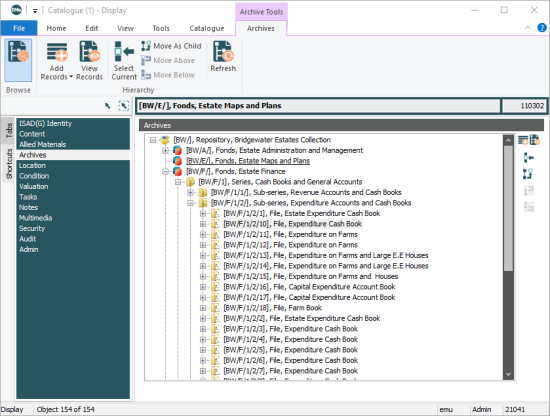 Individual documents can be recorded as archival records, collection objects or as both (e.g. a photograph can be an archival object as well as a collection object).
EMu also facilitates the generation of archive specific reports, such as finding aids: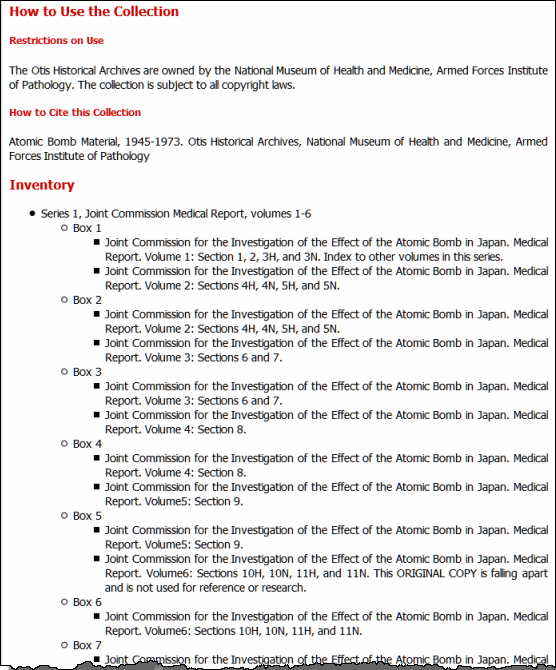 Collection Level Descriptions
EMu supports your research with collection level descriptions which promote resource discovery on the web for audiences with varying needs and levels of expertise. In broad terms, a collection level description is a high level description of the type of objects in a collection, which enables a museum website to respond sensibly to a request for details (from a visitor's search, an application or web service such as Google) about what can be found in the collection.

Recording All Your Analysis
The scientist user will find a range of tools in EMu that support scientific analysis, not least the ability to manage specimen analysis information - whether DNA, chemical, chromatography, a simple x-ray and much more - and share it as required. And of course, as well as recording analytical details in EMu, it's a simple matter to include multimedia to support and enhance an analysis.

Managing Specimen Preparations
The EMu Catalogue can be used to document new items derived from an existing object, such as preparations taken from organisms (e.g. skull or tissue sample). The main features of preparations are that the details of an organism are recorded once and details of each preparation are recorded and linked to its organism. The preparation thereby inherits all scientific details from its organism.
Preparation types include:
skin
skeleton
skull
egg
nest
sample (chip off mineralogy specimen)
polished block / section
tissue sample
slide preparation

Comprehensive Taxonomic Descriptions
EMu has extensive support for scientific information about specimens and other resources. Chief amongst this is the Taxonomy module, which is used to record detailed information about taxa relating to a collection and which incorporates the full taxonomic hierarchy. The Taxonomy module records the scientific names of species, the relationships between names (synonymies), and details that support the scientific name (citations, type specimens, etc.). A Taxonomy record can contain all of the following and more:
The scientific name of a species (more than twenty ranks can be completed if required).
Details about citations.
Details about authors (of the taxonomic name and of citations).
References to records of type specimens and other specimens referred to in citations.
Homotypic and heterotypic synonyms of the name.
Other recorded details include information about the author and year of publication of the taxon, the protologue publication, and a range of other bibliographic references to the taxon. The Taxonomy module supports hybrids, homonyms, common names, conservation status and description.
Taxa can be recorded at any level, from as broad as Kingdom to as narrow as Subspecies (Zoology) or Form and Variety (Botany). With its support for the complex rules relating to the synonymy of taxa, this module makes it simple to search for a taxonomic concept under any of its names.

Collection Events And Sites
The Collection Events and Sites modules record information about the locality at which objects were collected. Details include:
Date of collection
Expedition details
Precise locality and nearest named place
Geographic description
Latitude and Longitude and / or a range of other mapping coordinates
Altitude or Capture depth
Collector
Date and time
Prevailing conditions

Geo-referencing and Mapping
EMu supports geo-referencing of your collection. Comprehensive geo-referencing details can be stored in EMu and used to map objects and specimens in mapping tools. Geo-referencing information is designed to contain all locality co-ordinate information and associated error values.
It is possible to map the collection locality of a series of specimens by plotting details on to a map of the world. With a large enough set of specimens, this can provide a distribution map for various species that have been collected.

Thesaurus Support
EMu's Thesaurus conforms to the ISO Z39.19 standard and has specific support for the Getty Art and Architecture Thesaurus (AAT) and the Library of Congress Subject Headings (LCSH), many discipline-specific thesauri, as well as user-defined thesauri.
The Thesaurus facility includes sophisticated browsing and terminology manipulation, visually highlighting the tree-structure. As it is built into EMu's search engine, a range of search options, including searches for equivalent terms, and a term and all or some of its narrower terms, is possible.
EMu can be configured so that any field can be subject to thesaural control.

EMu Supports Standards
EMu has been designed to adhere to all of the standards that matter to museums:
SPECTRUM: collection management needs are met by EMu's compliance with SPECTRUM, a guide to good practice for museum documentation with procedures for documenting objects and the processes they undergo.
Dublin Core: resource discovery is facilitated by EMu's adherence to the Dublin Core.
For natural history collections, EMu supports the Darwin Core metadata standard with specific extensions for the OBIS and MaNIS standards.
CIDOC CRM (the international standard for the controlled exchange of cultural heritage information).
EUROPEANA (the European internet portal to digiti

s

ed cultural art

e

facts).
LIDO (Lightweight Information Describing Objects): an XML harvesting schema intended for delivering metadata for use in a variety of online services, from an organi

s

ation's online collections database to portals of aggregated resources, as well as exposing, sharing and connecting data on the web.
Multimedia: not only can EMu store any multimedia resource, it has the ability to show / play more than 100 image, video and audio formats. Other multimedia formats are handled by external viewing applications installed on a client computer.
Metadata: EMu supports three multimedia metadata standards: XMP, IPTC, EXIF. When image files are imported into the multimedia repository, EMu examines the image file to determine whether metadata for any of the three supported standards is embedded. If metadata is found, it is extracted and used to populate the EXIF, IPTC and XMP tabs in the multimedia repository.
For terminology control, there is EMu's Z39.19 compliant Thesaurus module, with specific extensions for common thesauri such as the Art and Architecture Thesaurus (AAT), Library of Congress Subject Headings (LCSH), Thesaurus of Geographic Names (TGN), United List of Artist Names (ULAN) and many other industry specific thesauri.
EMu web services support a SOAP interface.
XML: EMu's XML-based import and export capabilities maximi

s

e data interchange flexibility and help to future-proof your system. EMu connects to most mainstream industry portals and it is a simple matter for you and your collection to participate in many multi-institution projects. When managed by EMu your collection is not an island of information unto itself. With rich XML-based import and export capabilities, EMu provides for the interchange of information with any contemporary system.
And not only do we support museum standards, we're often at the forefront of their development. With and through our clients, we are helping to develop tomorrow's standards, ensuring EMu will meet your future goals.