Internal Movements module
The Internal Movements module keeps track of all instances where a collection item is moved internally. It covers such movements as storage relocations, movements due to renovations, exhibits that include a collection item.
Every time the internal location of an object changes, an audit trail records the details of the internal movement. The internal movement history is stored in the Internal Movements module and can be viewed under the Location tab in the Catalogue.
You do not manually create a record in the Internal Movements module; such records are auto-generated whenever an object location is recorded or changed in the Catalogue module.

How to print a Location History report
Search the Catalogue module for the required collection object / item.
Select the Location tab.
In Details View, click View Attachments beside the Movement History field.

The Internal Movements module opens.

From the Ribbon, select Home>Reports to display the Reports box.
Select a report from the list.
Click Report All to generate a report that displays all internal movements for the selected object:
An Internal Movements record includes:
The object name
Its location
The name of the person who requested, released and accepted the object's change of location
The date and time of a location change
The following screenshot shows the internal movements history of an object as it displays in the Catalogue. Each line in the Movement History list corresponds to a record in the Internal Movements module: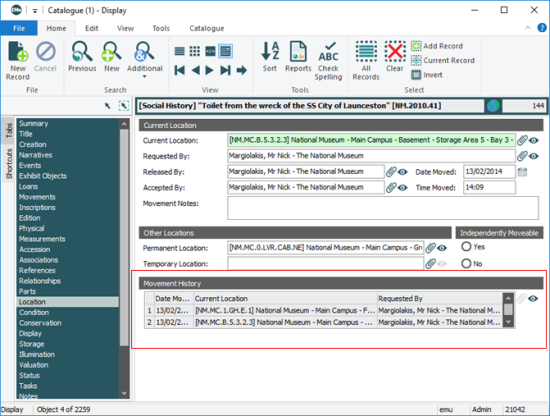 Typical Internal Movements tabs and their purpose

Note
Note: As every institution is able to customize EMu to suit its requirements, there are many different versions of EMu. Even where institutions have the same modules, the tabs included in each instance of the module may be different; and even where institutions have tabs with the same name, the fields on those tabs may be different. For that reason this section only provides a general description of modules.
Tab
Description

Movement

Holds movement details, including:

Objects moved
Location moved to
Person who requested the move
Person who released the object
Person who accepted the objects
Date of the movement
Time of the movement
Notes associated with the movement

Security

See Security tab for details.

Audit

See Audit tab for details.

Admin

See Admin tab for details.

Related Topics