Narratives module

About this section
This section is in two parts.
In this first part you will find a tab by tab and field by field description of the Narratives module. If one of your objectives is to deploy your narratives on the web, this section is particularly useful for identifying and understanding which fields need to be completed and with what.
The second part touches on a number of areas in which the Narratives module can be used. However its primary objective is to assist institutions implement the Narratives module as a content management tool for a website.
Note: Although the Narratives module documented here uses a Cultural History collection, the theory and techniques described apply to any type of collection.
It is assumed that readers are familiar with creating new records, searching for records, and attaching records in EMu.
Narratives are designed to capture and publish the knowledge of your experts, and provide a way of presenting a Museum's collection within a cultural, historical or scientific context. EMu's Narratives module helps structure these stories for different types of publication, including delivery to the web. It stores historically significant, general or even ephemeral information gathered about the collections. In short, the Narratives module is designed to hold any interpretative information about a collection, as well as references to all of the resources (EMu and non-EMu) used to author it. The key feature of the Narratives module is its flexibility.
Narratives records might be used for:
Labels for exhibits.
Textual descriptions for brochures and programs.
Miscellaneous internal information management, e.g. a record of conversations held or correspondence sent and received.
Narratives are ideal for use in web based presentations of a collection.
As with the Catalogue module, the Narratives module occupies a central place in your collection. It draws together data from an array of satellite modules. As well as having tabs dedicated to specific modules, the Narratives module has numerous attachment fields to other modules.

Examples of Narratives records
The following diagram illustrates Narratives records commonly attached to different modules: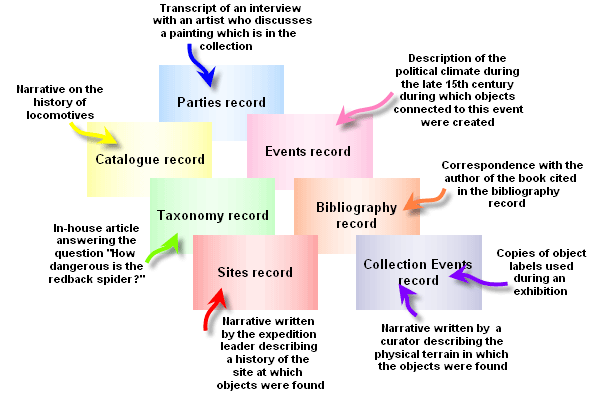 Depending on the nature of your collection (Natural History, Cultural History, Art Collection, etc.), the Narratives module will include attachment fields to, or entire tabs dedicated to:
Objects (Catalogue)
Events
Parties
Publication (Bibliography)
Sites
Collection Events
Taxonomy
Locations
The Narratives module in your version of EMu will reflect the nature of your collection so will not include all of these tabs (a Cultural History collection is unlikely to have a Collection Events module, for example).
Keep the following in mind:
The purpose of fields is not set in concrete and your organization may choose to use some fields for different purposes than described here.
Which fields and tabs you will complete and the information you record in them will depend on the purpose to which you will put your narratives.

Narratives module and the Dublin Core metadata standard
The Narratives module is broadly compliant with the Dublin Core Metadata standard, which ensures that content is discoverable and extensible for Open Archives Initiatives, and other Dublin Core uses:
Compliance can be managed by setting some core fields to mandatory.
Consistency can be managed with controlled vocabularies (fields controlled by Lookup Lists or the Thesaurus module, for instance).
A Narratives record includes:
Title, authors
The text of the narrative (plain text or formatted text)
Type, purpose and intended audience
Subjects and keywords of the narrative
Interview details
Correspondence details
Related publications and documentation
Verification and authorization details