How to edit Field Level Help
Suitably authorised users are able to edit field descriptions so that they describe the specific use of the field by an institution. It is possible to specify different field level help descriptions for different users / groups.
It is also possible to include one or more links to related information resources for a field. Links can be to a web page or even a page within the EMu Help and they display under the See Also heading in the Field Help box for the field. In this example, Related Information has been specified for the Party Type: (Party Details) field: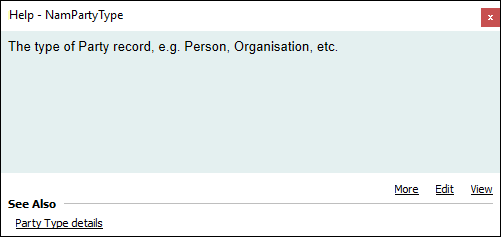 Option

Description

More

Click More to display back-end details for the field:

Details include:

The (back-end) name of the module in which the field is located (e.g. eparties).
The (back-end) name of the tab on which the field is located (e.g. QryPerTab).
Its Type (e.g. Text) and Kind (e.g. Atom).

This information is useful for Administrators when referencing the field for a wide range of administrative purposes.

Edit

Click Edit to edit the Field Level Help description.

Details below.

View

Click View to open the Field Help module and display the field level help record for the field.

Amongst other things, it is possible to display different field help descriptions to different groups / users. This can be useful for providing specific information to different users / groups according to the business requirements of their role.

Details below.

See Also

Displays when related information has been added for the record (i.e. a link to a page in the EMu Help with more information about the field).

Details below.

Related Topics