Hierarchy tab
The Hierarchy tab presents the taxonomic hierarchy of a name. When it is selected, a Hierarchy tab is added to the Ribbon: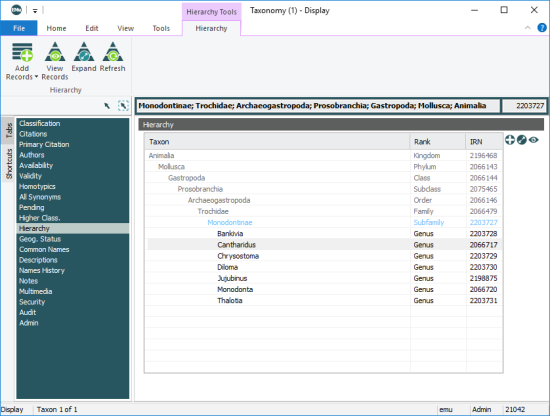 Building a hierarchical view of a name requires that the Parent: (Classification) attachment field on the Classification tab is used when adding a name to the Taxonomy module (see Method 1: Attaching to a parent record for details).
When the Hierarchy tab is selected, the taxonomic hierarchy of a name is presented to one level below the current record. As we see in the example above, the current record is highlighted in blue text and the hierarchy is expanded to one level lower. The lowest level of the hierarchy is black, with a lighter grey used for all higher levels.
The hierarchy can be manipulated using the options on the Hierarchy tab of the Ribbon, as well as with the buttons on the right of the Hierarchy tab: